Please make your selection below:
The CON-SPACE Team
---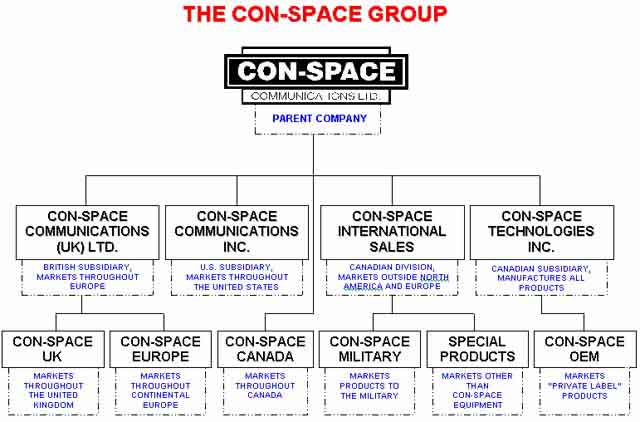 ---
The CON-SPACE Engineering Dept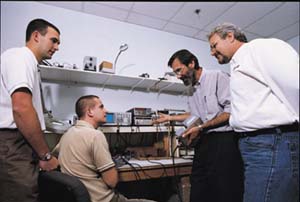 The dedicated CON-SPACE Engineering Team is responsible for all equipment designs and specifications that are based on customer requirements. After design they build prototypes of all products for field testing prior to submissions for Intrinsic Safe approvals. It is their job to ensure we remain at the leading edge of technology.
Since its inception, CON-SPACE has designed products after listening to the customer's requirements. As a result, the company has created a series of unique communication systems tailored for the comfort, safety and convenience of workers in a variety of different occupations. For example, the family of SR65 Radio Accessory products is a direct result of listening to requests from Fire Departments, rescue and HAZMAT teams to adapt our Throat Microphone to work with two-way radios. New items are constantly going into Research & Development with the intention of broadening our market penetration.
New Prototype manufacturing equipment, an expanded research laboratory, and expanded engineering staff have enabled CON-SPACE to continue development of many new devices that are technologically leading the industry.
The CON-SPACE Engineering Team not only designs products for our company but also for other manufacturers that require communication products to complement their own equipment.
Though CON-SPACE products have always been manufactured to the MIL 45208A quality standard Management felt it was time to improve its quality program and have now instituted the plan to upgrade to the International Standard ISO 9001. This process is due for completion before June 30, 2000. The CON-SPACE products have been designed and approved as Intrinsically Safe in Canada, the United States and Europe. Representatives from Nationally Recognized Testing Labs (NRTL), such as Factory Mutual Research (FMRC) and Intertec Testing Services (ITS) for the USA, CSA for Canada and CSA/LCIE France for Europe visit CON-SPACE quarterly to ensure approval compliance.
These approvals ensure purchasers and procurement officers in the public sector (municipalities and the military) and in private industry that our equipment complies with the strict safety regulations.
CON-SPACE is the world leader in safety communication products.


---
The CON-SPACE Manufacturing Dept.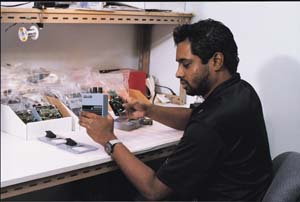 CON-SPACE has a highly trained manufacturing staff that produce all products sold by the company. These people are the heart of our organization as they ensure the quality of every item we ship. They are specifically trained in the manufacture of every Command and Alarm Module, the Talk-Boxes, Throat Microphones, Headsets, Cables and Accessories. They produce every SR65, Radio Interface Cable, plus all OEM items we manufacture. Quality control is critical, so precision is maintained using professionally engineered jigs and devices designed and built in house.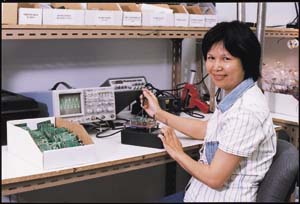 Suppliers of all raw materials are required to meet the highest level of quality. CON-SPACE requires compliance to ISO 9000, 9001, 9002 and Mil Spec standards where appropriate. Products produced by CON-SPACE must meet the conditions and approvals required by over 37 different industries throughout the industrialized world and be simple to operate, comfortable to wear and efficient.


---
The Head Office Team includes Corporate Management, Finance, Administration, Sales and Marketing, Engineering, Shipping/Receiving, and Manufacturing personnel. At present, there are 30 people in North America dedicated to designing, manufacturing and marketing the CON-SPACE communication products.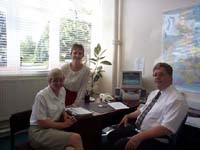 <=The CON-SPACE (UK) office team has recently grown to three and moved to larger quarters in order to better serve all of Britain and Europe.
Most staff members have e-mail address available.
Go the the contact us page for this list.


---
CON-SPACE, and Safety in Communication are
registered trade marks of CON-SPACE COMMUNICATIONS Ltd.

Copyright © 1997-2001 CON-SPACE Communications Ltd.
Home | Products | Confined Space | Equipment Applications
About CON-SPACE | Contact Us | Site Map | Links